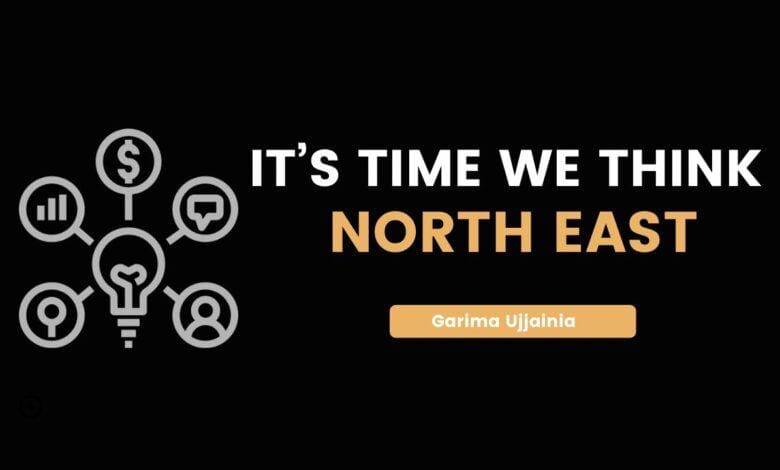 By Garima Ujjainia, Young Professional, Atal Innovation Mission -NITI Aayog
Northeastern region of India is the new treasure house of opportunities, ideas and innovations which is forcing the rest of the India to look East.
As we celebrate the 75th year of Independence – 'Azadi ka Amrit Mahotsav', Hon' Prime Minister in his I- day speech acknowledged that, 'Yesterday's startups are Today's Unicorns'. He rightly iterated the fact that the young entrepreneurs today carry a feeling of – 'We belong to this place'. They take risk, are confident and reflect the same confidence in their startups.
India is the fifth largest economy in the world and a global powerhouse of industry and innovation. Driven by 'Aatma Nirbhar Bharat' and 'Make in India' initiatives, the Indian economy and start-up ecosystem is gaining global attention and is presenting new opportunities for building a world class innovation ecosystem.
Seemingly, India is accounting for increasing number of unicorns, funded startups and better incubators and accelerators. There is a maturing investment portfolio, substantiating the strength of the ecosystem with its critical mass of startups, significant VC funding, number of exit M&As.
Though today, it's not the glamour of big Indian cities, but the sincerity of small forgotten cities that are coming up with big ideas which are ruling the Indian startup market.
MAKING THE CASE

Today we are the third-largest startup ecosystem in the world and valued at about $73.2 billion. It is expected that more than 50 startups might join the unicorn club as early as 2022. Entrepreneurial activity has picked up in India in last couple of decades as never before. And it's not just India but North East of India who is winning the game.
The North East of India which comprises of seven sisters – Arunachal Pradesh, Assam, Manipur, Meghalaya, Mizoram, Nagaland, and Tripura and one big brother – Sikkim, accounts for around 3.5% of total Indian population. The young entrepreneurs from this region are making their mark with unique startup ideas and sector focus. Most of these startup founders are indigenous entrepreneurs and work out of their roots in North East.
The sector focus of these startups is not limited to Agriculture and allied fields but stretches from Information and Communication Technology, Manufacturing, Engineering to Sustainability, Renewable Energy, EduTech, HeathTech, Social Impact among others.
REGION UNEXPLORED

Known for its magical beauty and bewildering diversity, North East of India is the home for more than 200 vivid tribes speaking different languages with distinct culture and traditions of each state and community. It has over 2000 km of international borders with Bhutan, China, Myanmar and Bangladesh and can act as a starting point to go towards the South East Asian market.
This hints to a booming opportunity for entrepreneurs wanting to enter into business areas such as trade, tourism, logistics providers, freight forwarding facilities among others.
Opportunities in North east for entrepreneurs are promising and as diverse as their own traditions and cultures. Right from a variety of natural products available in abundance like the fruits, vegetables, spices, dairy products, tea, coffee, bamboo, wool and various flora; it is also rich in handicrafts, handlooms, ceramic products, bamboo and cane furniture, bags, leather articles, jute products, natural dried leaves and grass items; forest and mineral based products, power and many more.
CREATING A SENSE OF BELONGING

Different entrepreneurs have different reasons to set up businesses in Assam, Manipur or Sikkim, but the common factor is their wish to develop their home states.
Chimi Ongmu Bhutia, Founder of CAS Collective (Incubated at Atal Incubation Centre Sikkim Manipal University TBI) vividly explains that her brand – Lagtsal is a small effort in direction of living an eco-friendly life and collaborative partnership with locals to promote use of home-grown bamboo from all over Sikkim. Their work ranges from manufacture of raw bamboo incense sticks, bamboo furniture, bamboo charcoal and other value-added items. One of their core values is to bring innovation in lifestyle products.
Similarly, Naro ki (Incubated at Atal Incubation Centre Assam Agriculture University) works with fresh and dried flowers sources from farmers of Nagaland, Meghalaya, West Bengal, and Sikkim are dedicated to create a market linkage for flower growers in the north east region.
Envo Renewable Energy Services Pvt. Ltd. (ERES, incubated at Atal Incubation Centre SELCO) which started as a rural energy enterprise with an objective to create a holistic ecosystem is providing reliable energy services for rural communities living in remote geographies of the North East Region of India. Today they are working in the most remote and vulnerable areas of the region to bring in renewable energy intervention in household and community focused in lighting, health, education, livelihood, disaster and relief. Till now they have impacted around 300,000 rural lives in Northeastern region.
And there are many more such young and vibrant entrepreneurs, like Navvayd SunMoon Organics Pvt Ltd (Incubated at AIC SMUTBI) which is an online tea store making fresh and aromatic tea made in India for the world; Ngayam Foods (incubated at AIC AAU), a food processing firm started in 2016 at Shirui village, Manipur sells varied range of products from fruits candy to different products like pickles, chocolates, fruit Wine, meat products to different part of the country, who amply testifies the unmatched desire to support the northeastern region and turn all its strengths to dwelling opportunities.
UP AND AHEAD

In recent years, the spot light on North East has increased, with not just government interventions contributing the growth of the region but also individuals. With 'Act East Policy' of Government of India, faster construction of international highways, seaports and railways has connected the region more to the mainland and results of it are noteworthy.
To promote the startup ecosystem in the Northeast India region, North East Development Financial Corporation (NEDFi), in collaboration with the ministry of DoNER, launched NorthEast Venture Fund (NEVF), a dedicated Venture Fund for the NorthEast Region with a corpus of Rs 100 crores in 2017. The scheme typically supports and fund target start-ups, early-stage, and growth-stage companies with new products and technologies or innovative business models.
Government of India with their flagship initiative – Atal Innovation Mission has established Atal Incubation Centres to support the startup movement in the country. Currently AIC Sikkim Manipal University TBI in Sikkim, AIC Assam Agriculture University – NEATHUB and AIC Selco Foundation in Assam have supported more than 100 startups of Northeast region under the initiative.
Various other state wise schemes have also started, like the Manipur government implemented the Startup Manipur policy in 2016, and provides new enterprises with subsidized loans and plans to set up state-funded incubation centres, offer preferential lease of land, access to government R&D labs.
CULTURE KITCHEN OF INDIA
The lushness of its dimensions, the vivid communities and geographical and ecological diversity makes the North East quite exquisite in itself. It truly is a melting pot of communities, faith and cultures which is brewing warmth and opportunities. A steering enthusiasm to this were when, the PM Modi himself made a strong statement at the Naga Peace Accord Deal in 2015 that, "India will develop only if the north east develops".
Clearly, it's not just the landscape and natural beauty of the North East that is breathtaking, but the creativity of young entrepreneurs in this region that teases your brain. With a unique sense of fashion, music, food, culture, approach to the problem and strategy they just outshine others.
It is needless to say that the next decade belongs to North East and its time we move on from west and Think East!
I will end with a prose from Månestråle (Moon Beam) by Easterine Kire

And your eyes, ah dear love
there's such a light there
dare I try to recapture it in song
and word, and picture
by light of this moon?
move with me; move towards
movements
that
flicker.