"I take pride in the fact that despite being born and raised in New York City, I speak Bangla fluently. I credit this mostly to my Bangladeshi parents for being brutal in their approach to teaching my younger sister and me a language that was so violently fought for," writes Jennifer Chowdhury in the New York Times. But the 'emerging trend'…closer home appears distinctively otherwise. We often come across some parents (particularly upper middle class & above) flaunting how their children are unable to speak Nepali (their mother tongue) and or are unable to secure passing marks in their Nepali exams. Before we proceed further, it's important to understand the implications of such parenting, particularly for the Indian Gorkhas. We will try to break this down piece by piece.
We are parenting our almost two-and-a-half-year-old daughter. So, this should qualify us to narrate our side of the story as parents. We have had a good chance to meet & often examine the kids of our friends and relatives as we are already nearing our 40s. Our frequent conversations in English (despite our best efforts to converse in Nepali) with these kids provide us enough ground to question as to why they are unable to hold a conversation in their mother tongue (henceforth Nepali); and what this trend means for us (Nepali speakers). The answer to our concern is appalling; the conversation between the kids and their parents is exclusively in English as this is the 'emerging trend'. Nothing wrong with learning English or teaching your kids one of the most widely spoken languages in the world. But how far can we justify learning and speaking a 'foreign language' at the cost of our own language? The bigger question is; can parenting regulate this trend?
The Eighth Schedule of the Indian Constitution recognizes 22 languages as Indian languages. Nepali was recognised as one of the Indian languages under the Eighth Schedule in the year 1992 by the Indian constitution after decades of a united language movement by the Indian Gorkhas. There exists literature and oral narrations of the struggle, shame, and stigma that the Nepali language had to face prior to achieving the recognition and what is disheartening; is to witness the continuation of such experiences even after being recognised as a scheduled language of India. The Indian Gorkha community; a minuscule minority in the country has been very vocal about any disregard shown towards their constitutionally recognized language. The latest being the audacity of All India Women's Conference (AIWC) member Ms. Chandra Prabha Pande's unwillingness to include a Nepali song in a program celebrating the 'Azadi ka Amrit Mahotsav' marking the 75th anniversary of India's independence. But more seriously what we need to understand is that given the 'emerging trend' the language is undergoing a slow death in most of households. Sadly, even educated parents are not realizing the value of teaching (and ensuring) that their kids are speaking (later reading & writing) in Nepali. So, in the process of matching the 'trend' how can one reconcile the slow death of a mother tongue in her/his home on one hand and on the other hand hit the streets protesting against the dishonour meted out to his/her mother tongue?
Therefore, it is necessary and not just important to pass on our language to our kids. After all, at the end of the day, it's our own language that binds a family. Kids these days are seriously following the English language, given the exposure to English cartoons. It amazes us profusely when our two-year-old daughter says 'it's not blue… it's indigo!' But what delights us equally is when she labels a taste as Amilo (sour).Needless to mention, young kids are amazing at learning new things or words; mobile phones are becoming the major source of learning and imitating. We believe regulating the screen time of English cartoons or adding them up with Nepali cartoons and including Nepali children's books (available online) could be one of the ways to improve the usage of our language at the household level. We find a few good cartoons based on some of our rich and touching rhymes (baal geets) such as chi musi chi, Meow meow Biralo, Kukhuri Kaa, Darjeeling ko Sano rail, andmany more.we make a conscious effort to include some of these videos on her regulated screen time. More importantly, we engage with her in our mother tongue. At times she replies in English (in a typical carton character's tone with an American or British accent) but we ask her to say it again in Nepali. That way it has been working for us. Our little experience has taught us that even if we can keep our daily conversation in a 70/30 ratio in favour of any mother tongue at least till the age of five, we believe it should work reasonably well for us. This reminds me of a discussion with my friend who shared that his sister working in a high position at the United Nations Development Programme project in Indonesia wanted to make sure that she has a Nepali-speaking nanny so that her son could learn his mother tongue at home when she would be away for work during the day. And to our joy, now her five-year-old son living and studying in Indonesia speaks mostly in Nepali; that too very fluently: certainly, a lesson to learn from her for all of us.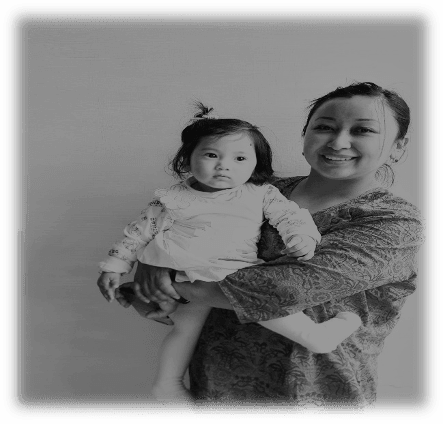 Remembering our conversations with our grandparents still fills our hearts with so much warmth and nostalgia. Oh, how we used to enjoy listening to their epic stories, idioms, rhymes, and their own life stories… and they answered our endless questions without a hint of irritation. And also, not to forget how they used to save us from our parents' scolding and occasional thrashing. We as little ones listened and looked into their expressive eyes and wrinkled face… trying to imagine the stories in our own way. Our lives have been thoroughly shaped by the values and life lessons we learned from them. This special time and lessons learned were possible only because of our conversations in our mother tongue. Our kids specializing in English these days…. are most likely to miss this wonderful and much-needed opportunity to develop a bond with their grandparents in particular and society at large. This loss is not only because of the generation gap or societal changes but because of the growing disuse of the language at home. Realistically speaking, not less than 90% of our grandparents are unable to speak and understand the English language. So, the stake of non-regulating the spoken language at home is exceedingly high for us, particularly, when most of our young parents are nurturing their kids in metro cities in India and abroad.
So, with more and more kids moving away from our language at home means moving away from our history, culture, literature, and community. Apart from parents, the authorities also must realize the 'emerging trend' and must rise up to the challenge. Oh, how like many other parents we too wish to take our kid to visit a language movement museum or monuments commemorating the movement, this may permit us to install a love and responsibility towards our mother tongue at a very early age; installing a strong message that the language is my root, my heritage, and my identity. Lastly, at home and in life we must stand by Nepali as our first language.

This article is written by Bvek and Sangmu. Both teach at Sikkim University- Gangtok.
The author can be reached at tamangbvek@gmail.com