To commemorate Sikkim's war hero Ganju Lama's sacrifice, courage and valour shown in driving away Japanese soldiers during World War II, his family members set up a museum and statue at his own residence on same day when he was awarded with Victoria Cross in the year 1944.
The museum and statue was formally inaugurated by Chief Minister Prem Singh Tamang in the presence of family members on October 24 at Lama's residence in Sangmo.
The collection in the display of the museum includes his medals, uniforms, artefacts, various souvenirs that he received from the people and institutions from all over the world, and other memorabilia closely connected with the Late Ganju Lama.
Lama joined British Gurkha Army at age of 17. His real name was Gyamtso Shangdarpa, In the year 1942 when he was in recruitment process for the British Gurkha Army, a clerk in the recruiting office of the British Gurkha Army wrote it down his name as Ganju, and the name stuck.
VC Ganju Lama was 19 years old when he showed his bravery during the World War II by saving his fellow soldiers as they came under heavy firing from the Japanese army. Brave Lama during the heavy firing picked up an anti-tank weapon and surged towards the Japanese army and succeeded in bringing the gun into action within 30 yards of the Japanese enemy tanks, knocking out two of them.
Likewise, when after India gained its independence, Lama joined 11th Indian Gorkha Rifles and retired in the year 1968. After his retirement he was appointed honorary ADC to the President of India for life.
Following to his retirement days in Sikkim he established a school at Sangmo and was involved in various other social works. Late Ganju lama was also given charge of Chairman State Bank of Sikkim during late Nar Bhadhur's government.
Later, on June 30, 2000 Braveheart Victoria Cross Ganju Lama breathed his last breath at his own residence.
Speaking with Sikkim Chronicle, Sonam Yongda, the admiral of last king of Sikkim, known as "Captain Younda said, "The way in which our uncle VC Ganju Lama participated in the second world war and he achieved most popular and renowned decoration of the world that time which is Victoria Cross which shows that he was not an ordinary being but he was rather unique not only for the people of Sikkim or India but for the world."
"Aku VC demonstrated his bravery in that second world war was excellent and i really honour and respect him." He added.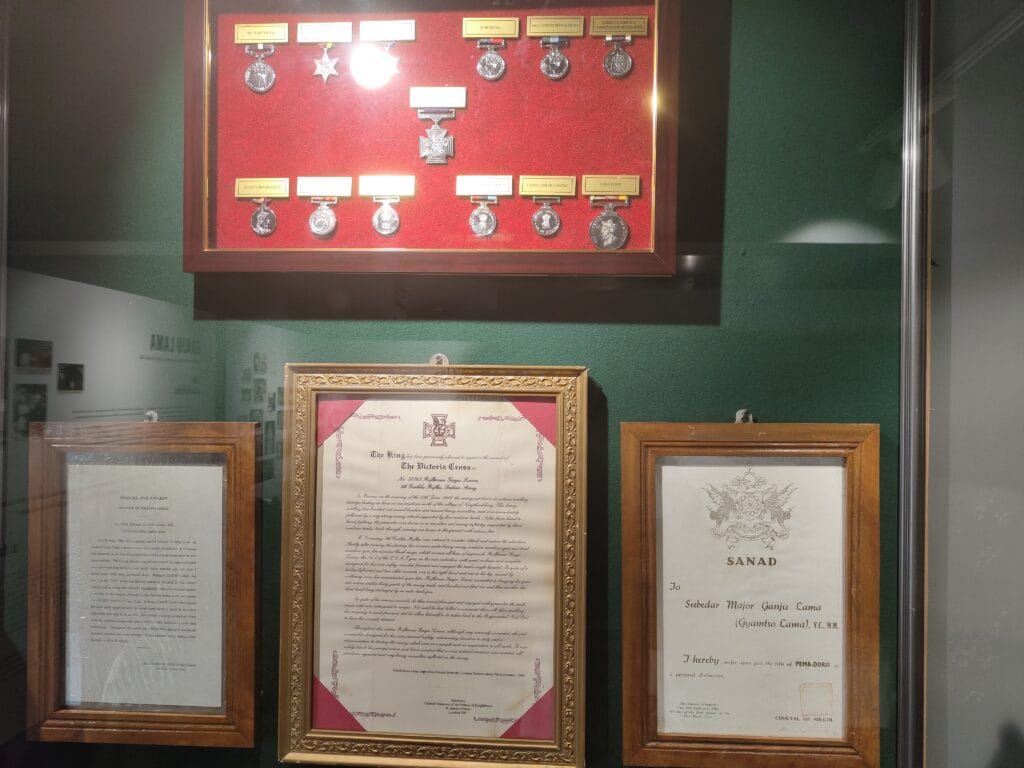 Captain Yongda cherishing his days with his late uncle VC Ganju Lama mentioned that, "I had the opportunity to be with my uncle for many years after his retirement here. He built a school for the society and younger generation at Rankay. I was with him at his house for a month after that. When Denzong Pema Choeling Academy in Pelling, was established in 1980 in the establishment he was so dedicated towards the particular work that he forgot his family and came to Pemayangse, West Sikkim and camped there for 3 months and put all his hardwork."
"He was a unique man who wanted to do something for the society that is the reason I respect and honour him." Added his statement.
Similarly, Speaking with Sikkim Chronicle, Ugen Choppel, Flim director nephew of Ganju lama said, "All of us know that the Victoria Cross meant so much not only to Sikkim but to whole of India because it is the highest British honour and on top of that he was awarded with the military medal as well. He is a legendary figure and an icon."
"Probably with time lot of youngster might have forgotten who VC Ganju Lama was but history is history it cannot be undermined so i am very happy that this place has been set up for people of Sikkim to see that there lived a legend and a war hero who was Ganju Lama."
Chopel reminiscing on his memories with his late uncle shared, "I have had the privilege and honour of knowing him since my childhood, to us he was always 'Aku VC' and he was a total army man. His late son who passed away last year started studying in the same school as me and because of his son our relationship grew much closer"
Addressing the media Chief Minister Prem Singh Tamang congratulated family members for the achievement and termed the event to be a historic, he said, "A historic event was held at Sangmo south Sikkim in which a museum along with statue was made for which I on behalf of state government would like to extend my gratitude towards family of VC Ganju Lama for taking such a thoughtful step."
"Smt Pema Chuki Bhutia wife of late Ganju Lama and all other family members have done a tremendous work by establishing VC Ganju Lama's Statue and museum at his residence. The decision to gather VC Ganju Lama's all his belongings since his army days and display it in a museum is appreciable." He added
On asking CM Tamang on importance to know about VC Ganju Lama he said, " If anyone wants to know about VC Ganju Lama we can benefit and learn a lot. He is an inspiration and his contribution towards his nation so it's important for the younger generation to know Ganju Lama."
Furthermore, CM PS Tamang announced that, "The state government will coming days include story of VC Ganju Lama and other brave hearts in school curriculum so that people can know about the heroes"
Likewise, On asking CM Tamang on including the museum in Sikkim tourism map he stated, "I have been in talks with son of Late Ganju Lama regarding the place as, this place now has become one of the most important place and coming days when this place will get tourist attractions and there can be rush in the place so as a help from Sikkim Government we shall provide tourist guides"
Pema Ledya son of Late Ganju Lama said, "This is a living monument now, we can display his medals, uniforms and every item and share his stories to the world"
"I would like to thank Chief Minister for inaugurating also army personnel who helped us and especially all those people who made it to the inauguration, I hope this inspires the younger generation." He concluded