The casting of votes for the Panchayat Elections, 2022 for Territorial Constituencies and Wards concluded in Sikkim today.
As citizens of Sikkim demonstrated their right to exercise their universal adult franchise, many senior citizens in Sikkim joined in and exercised their most powerful right to chose leaders who shape society. Leading with example many energetic senior citizens were seen in polling booths across the state.

Here is a compilation of some of the oldest voters who cast their votes in this round of Sikkim's Panchayat Elections 2022:
Shri Hemlall Adhikari, resident of Development Area under 08-Development Area Ward, 09-Rhenock GPU, of age 102 years was one of the oldest voters among Sikkimese voters. He casted his vote for Rhenock-Tarpin Zilla Panchayat TC in polling station of Development Area, BAC Rhenock under Pakyong District.
Shri. L.S Yonzon of 96 years, the 1992 National Teachers' Awardee exercised his universal adult franchise at Lingchom Sr. Sec School under Gyalshing District.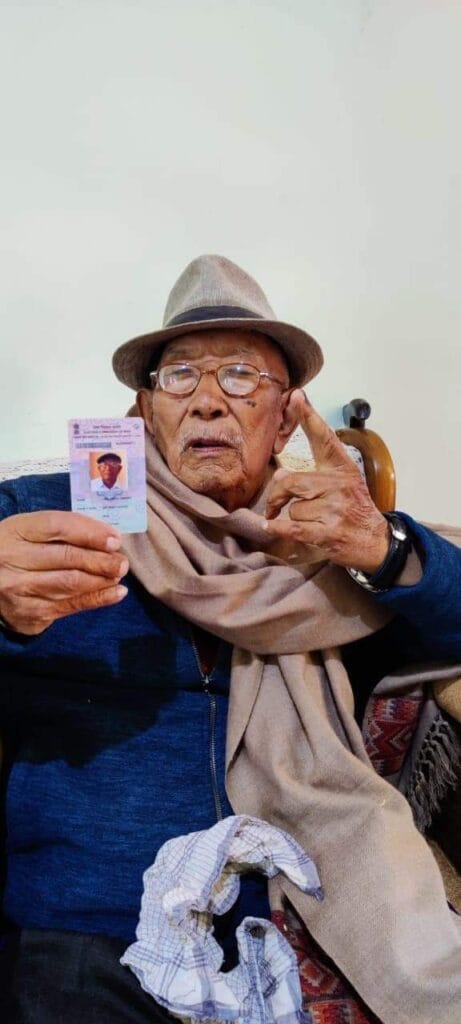 92-year-old Shri, Chandralal Dahal cast his Gram Panchayat vote in 03 Arigaon Ward of Yangthang Gram Panchayat Unit under Yangthang Constituency of West Sikkim.
Smt Lela maya Subedi, 86 years old from Lower Sukrabaria, excersiced her right to vote from Sukrabarey, Suntoley GPU.
Shri Moti Lall Rai age 82 and Shri Suk Bahadur Rai age 72, casted their votes at Chemchey, South Sikkim.
A group of senior citizen voters exercised their right to vote at Damthang Secondary School, Polling Station:
They are, Shri B. B. Gurung (age 79years), Smt Kumari Gurung (age 54), Shri Deo Prasad Gurung (age 61 years), Smt Tshering Lhamu Lepcha (age 72 years), Smt Lucky Lepcha (age 63 years), Smt Jamuna Chettri (age 55 years), Smt Suk Maya Rai (age 60 years) and Shri Duk Bahadur Rai (age 75 years).
Shri Pintso Lepcha , aged 76 under Marchak ward no 1, at Biraspati Prasai Senior Secondary School.
Senior Citizen voter Shri B.B. Rai age 75 casted his vote in Namchi District.
98 year old Smt. Karna Maya Sunwar resident of Assam Lingzey cast her vote at Assam Lingzey SSS.
Shri Dhan Bahadur Baraily and Shri Gagat Bahadur Rai aged 77 and 69 years old respectively. They casted their votes at Jawaharlal Nehru Memorial Institute, Boomtar, Polling Station.
Senior Citizen couples Shri Sukmam Rai aged 60 years and Smt Narmaya Sapkota aged 72. They casted their votes at Jawaharlal Nehru Memorial Institute, Boomtar Polling Station, Namchi District.